Assalamualaikum teman-teman blogger
Harini aku terpanggil untuk berkongsi satu website:
This Islamic guide is for non-Muslims who would like to understand Islam, Muslims (Moslems), and the Holy Quran (Koran). It is rich in information, references, bibliography, and illustrations. It has been reviewed and edited by many professors and well-educated people. It is brief and simple to read, yet contains much scientific knowledge.
Yang menariknya, ada pelbagai bahasa (main = English):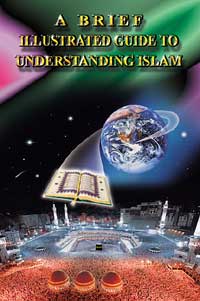 Kalau ada di kalangan rakan-rakan yang belum mengenali Islam, mungkin kita boleh hadiahkan mereka dengan 'buku' ini.
Tak semestinya kita perlu 'pandai bercakap' untuk berdakwah kan. Aku amat paham sangat, sebab aku pun tergolong dalam jenis 'tak pandai bercakap' hal-hal sebegitu.
Dan medium dakwah itu sendiri luas. Tidak semestinya perlu dalam kumpulan/organisasi baru boleh buat kan (namun aku tidak nafikan kepentingan kumpulan/organisasi). Cumanya sedih laa kan, kalau dalam kumpulan, macam-macam hal boleh timbul, sedangkan objektif utama masih samar-samar.
Maka, kawan-kawan, usah sedih kalau ada orang cakap-cakap kita tak sokong usaha dakwah whatsoever....sebab hanya kita sendiri yg tahu cara/medium mana yg sesuai bagi kita. Sudah tentulah cara extrovert tidak sama dengan introvert kan.
***tiba-tiba ter emo pulak...iskkk!